TOP-7 books for learning Dutch
Before you start to choose a classic book for learning Dutch, please consider our online Dutch course #dutchgrammar. A course which deals with all the grammar you need to know at the beginner's level, and which you can use as a stand alone course to learn Dutch from scratch! We are enthousiast about it… and it is a good alternative to traditional books for learning Dutch.
Click here to watch the trailer: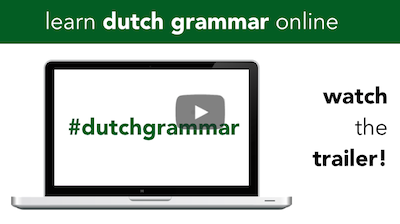 If you prefer a traditional book for learning Dutch:
I made a selection of the best and most used books for learning Dutch. Although I position it from 1 till 7, there is no such thing as a best method. It depends on your personal situation. One method is based on learning fast (and deals less with grammar in the beginning): good if you plan to come a short period to the Netherlands. The other is based on learning grammar well from the beginning, so that the result in the end is best.
I put my comments to help you make a choice. The pictures link directly to Amazon (US), so you can buy it directly. Below the picture is a link to Amazon (UK) and Bol.com (for Netherlands and Belgium).
You can also check the online bookstore with a selection of books for learning Dutch.
Assimil Dutch with Ease
For self study, this is probably the method with which you may reach the best level in the end. Attention! this is not a "sit back and relax" course. You have to work hard! The course has over 400 pages and almost 100 lessons. Grammar is explained well, but you need to go through it. And you need to be a very self disciplined person to work this through. If you are, and you manage to learn it all, you reach a probably the best possible result for a self study course.
Nr. 2

Order at Amazon (UK)
Rosetta Stone Dutch
Rosetta Stone is a proven and unique method for language learning. Much more than the free course on learndutch.org, it combines all audio-visual elements in language learning, which makes it very efficient to learn a language fast. The course has a high matter of interaction and scoring elements in it. You may be not go as deep into grammar as in the Assimil course, but if you want fast result than consider this course.
Pimsleur Dutch
Pimsleur is a language learning method which is fully based on audio interaction. In this method the student builds vocabulary by repeating words and phrases. Although it is my personal opinion that the Rosetta Stone course is more efficient, there is one element in Pimsleur which makes it have an extreme advantage. You can do the course while doing something else ! I've personally heard of students who did the course while driving in the car or cleaning the house. Also, for people with dyslexia, this course probably works best.
Nr. 4
Nederlands in Gang
Probably one of the most used methods by language schools in the Netherlands. The method is focussed on students who have a university level. It is a method that fits with teacher-student interaction. Personally, I think that the previous 3 methods suit better for self study. But if you are going to attend classes in the Netherlands, then you will probably work with this book. Level A2 of CEFR is reached upon finishing this book. The method can be continued with the books "Nederlands in actie
" and "Nederlands op Niveau".
Van Dale Comprehensive Dictionary of the Dutch Language
A must-have for the library of the serious Dutch Learner! Van Dale is the Roll's Royce of Dutch Dictionaries. Van Dale determines what is official Dutch language for already almost 150 years. If you have this dictionary in house, you'll always be able to translate anything.
Dutch for Expats (Klaassen)
This is quite a comprehensive course. It starts at zero level and will provide you with level B2 upon completion. It is specifically meant for English speaking expats, who need to learn Dutch quickly after arrival in the Netherlands. The method is used both as self study, but as in classes with a teacher.
Dutch for Foreigners (Delft Method by Scarione)
The Delft method is a traditional method where the texts are the base of each lesson. Words and grammar are learnt by listening and reading the texts. The texts tell a lot about the Netherlands and most frequent words are taught in the first place. All words are translated into 26 lessons.