Dating the Dutch! – How to flirt in the Netherlands
Going out and looking for love can be tough. And if you mix this with being in a strange country where the people speak Dutch, it could seem impossible.
Don't worry! It's not that bad!
Flirting in the Netherlands
Like some students say in the video, flirting in Dutch might not be that different to what you are used to. One thing you should NOT expect is
super romantic

elegant manners

flattering Dutch guys
They are not!                
Dutch guys are known for being pretty direct and not shy of going Dutch.
Be warned, you may have to open the doors yourself, ask or fish for compliments and pay for your own dinner.
The good thing is, you know sooner when a guy is really honestly interested instead of just being romantic.
Speaking Dutch is sexy
Remember, in general Dutch people find it really cool that you are learning the language. They know it's not the biggest and most important language in the world. And although a lot of Dutch people speak English and a third language, it's really appreciated when you try!
So in relation to this, in the context of flirting and dating, showing that you are trying to speak could come over as sexy and positive. The Dutch are aware of the fact that the pronunciation of Dutch is really difficult for foreigners. So don't worry about that. A lot of them find this charming, or at least, funny.
More and more singles in the Netherlands
In the Netherlands there is a big increase in the number of single people. According to Statistics Netherlands, there are approximately 2.8 million singles in the Netherlands. This number is expected to increase significantly to more than 3 million singles in 2025.
And these people like to date. According to research from Meetic, Dutch people go on dates 22 million times a year.
Dating is different now
The arrival of dating apps has turned the way we date upside down. Before 2010, you still had to go out to meet your date.
Now there's Tinder, Happn and Bumble and all these other apps. And the Dutch use these apps frequently.
In the Netherlands, 1.18 million people use the dating app Tinder. Moreover, 'How Tinder works' was one of the most popular searches on Google in 2018.
Besides that, more than 600,000 Dutch people use Happn
Opening lines for online dating
So what to say when you want to use of one those apps? Here are some examples. But be aware, these are recommendations not based on my own experiences.
Nog gefeliciteerd met mij als jouw match
(Congratulations with me as your match)
We zullen gewoon later tegen je ouders liegen hoe we elkaar hebben ontmoet, oke?
(We'll just lie to your parents later about how we met, okay?
Geloof je in liefde op de eerste swipe?
(Do you believe in love at the first swipe?)
Hey [naam], heb jij nog geheime tips voor me op een eerste date?
(Hey [name], do you have any secret tips for me on a first date?)
Tip: TV-shows like First Dates and Boer zoekt vrouw
Wondering how the Dutch date? There's an interesting show you can watch, 'First Dates'.
Not only can you see how the Dutch approach their first dates, it's also a good way to learn Dutch. You will hear the way the Dutch introduce themselves, talk about themselves and ask questions.
Another very popular Dutch tv-show about dating is 'Boer Zoekt Vrouw' (Farmer Wants a Wife).
Sentences for flirting in Dutch
So you are entering the world of dating. What sentences can you use? Here are some which might help you.
Ik vind je leuk. Ik vind je knap. (I think you're pretty / beautiful/ good-looking.)

Je bent grappig (You are funny.)

Heb je al een vriend? Ben je bezet? (Do you have a boyfriend? Are you spoken for?)

Zullen we daten? (Do you want to go out?)

Heb je zin om samen te eten? (Do you want to have dinner together?)
Examples from summer school students
I might not be the best love coach in the world, so I asked some students what they thought were good opening lines in Dutch
'He, hoe gaat het?' (How are you?)

Kom je hier vaker? (Do you come here often?)
WARNING : BROMMERS KIEKEN
In the video there's a reference to 'brommers kieken'. What is that? 
'Brommers' means 'mopeds'. This saying arose in the eastern part of the Netherlands as an excuse for a couple to retreat to kiss. In this part of the Netherlands almost every village has  a weeklong summer festival, usually with a big marqee (feesttent). 'Brommers kieken' was originally just used as an excuse to lure a girl away to the bike shed in the hope that something would happen.
Cheesy opening lines in Dutch
Some think cheesy opening lines are the way to go. Here are some:
Ken ik jou niet van Griekenland? Niet? Want daar komen toch alle godinnen vandaan?
(Don't I know you from Greece? No? Because that's where all the goddesses come from, don't they? )
Weet je wat raar is? Ik kan niet vliegen, maar ik ben toch in de wolken.
(Do you know what's weird? I can't fly, but I'm in the clouds anyway.)
Is je vader een piraat? Want je bent een schat.
(Is your father a pirate? Because you are a treasure. )      
Met jou wil ik wel een beschuitje eten.
I want to eat a beschuitje (breakfast toast) with you.
But think twice before using these. Dutch people tend not to like such over the top romantic behaviour. Mostly they prefer honesty.
Pet names and loving nicknames
The Dutch like to call each other by different pet names and affectionate nicknames. Some examples:
Schat

Schatje

Lieverd

Liefje

Scheetje

Poepie

Lekker ding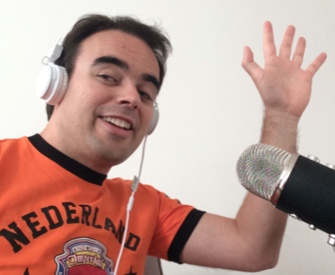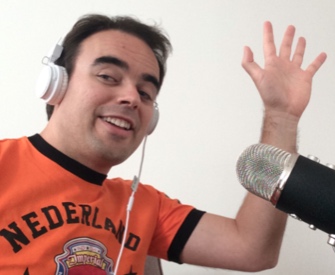 Bart de Pau
online Dutch teacher & founder of the Dutch Summer School & Dutch Winter School