a proven program: blended learning = online videos + virtual classroom

learn from home, anywhere in the world

interactive classrooms (no one-way teaching!)

practise what you've learned from Bart de Pau's videos

flipped classroom = more efficient

levels 0, A1, A2, A2+, B1/B2

go from one level to the next level

exclusive & proven method

twice per week 1 month or 2 weeks intensive

9 virtual classrooom lessons per level (with Zoom)

one virtual classroom lesson = 2×90 minutes

extra e-learning (videos)

12 students per group = gezellig!

new courses every month

access to premium course #dutchgrammar
We converted the Dutch Summer School to online virtual classrooms in May 2020. More people applied than normally, and also more people booked extra levels! Our blended learning method proved itself even more in a 100% online setting! Surprisingly efficient, and fun. So, we decided to make it a permanent year-round offer!
Evening course:
– 1 level = 9 sessions
– 2 times per week: Mo + We or Tu + Th
– in the (Dutch) evening: 18:30-21:45 (Amsterdam time)
– 5 weeks in total (last week only once)
– levels are successive (for example do level 1 starting 14th of September and continue with level 2 starting 20th of October)
Waiting list:
– Is the group you want to do full?
– Would like to do your level on a different date?
– Or perhaps different time of the day?
Then subscribe to the waiting list.
Intensive course
– 1 level = 9 days of class
– intensity = 9 days of class spread over 10-12 days
– timetables: A, B or C (specified below)
– levels are successive
– not recommended to combine with fulltime job
– more options in July/August/January as part of the Summer/Winter School
Timetable:
– timetable A: 9:00-10:30 + 13:00-14:30 (Amsterdam time)
– timetable B: 10:45-13:00 + 14:45-16:15 (Amsterdam time)
– timetable C: 18:30-21:45 (Amsterdam time)
Waiting list:
– Is the group you want to do full?
– Would like to do your level on a different date?
– Or perhaps different time of the day?
Then subscribe to the waiting list.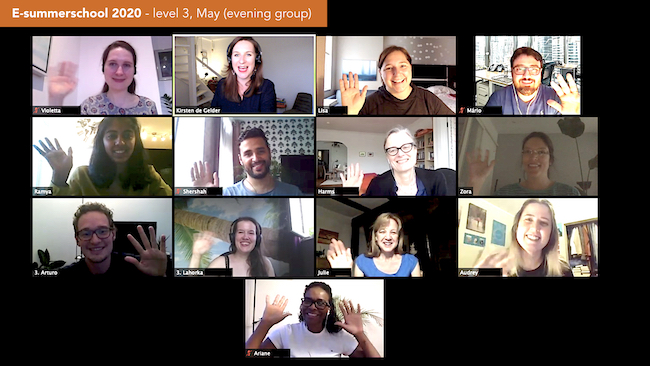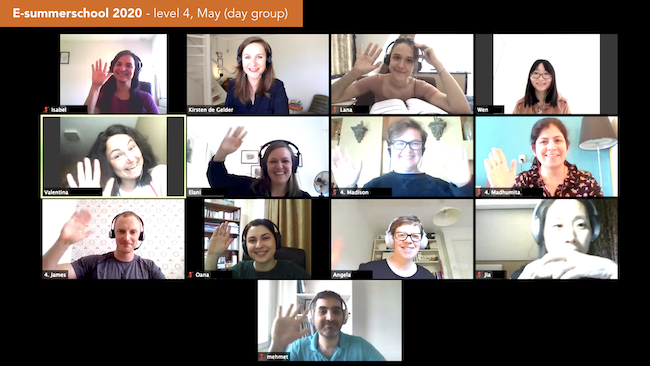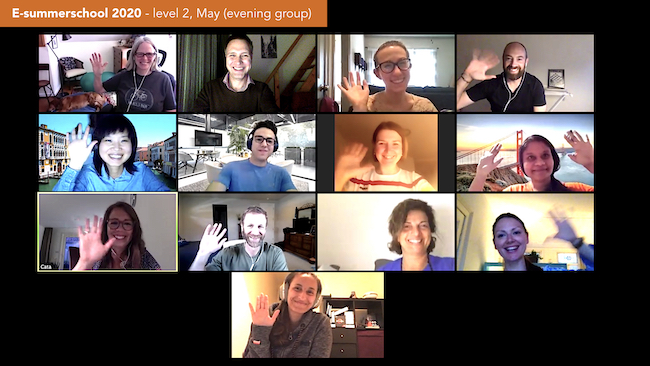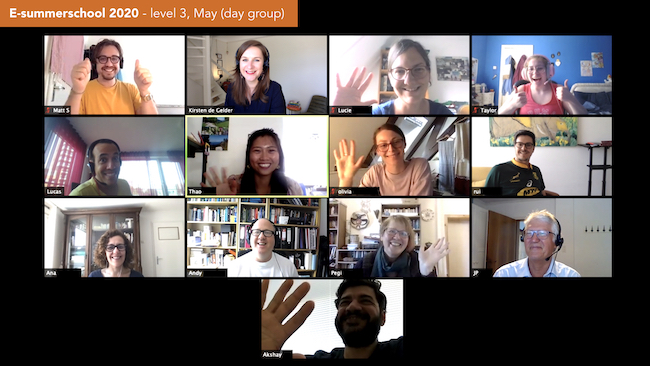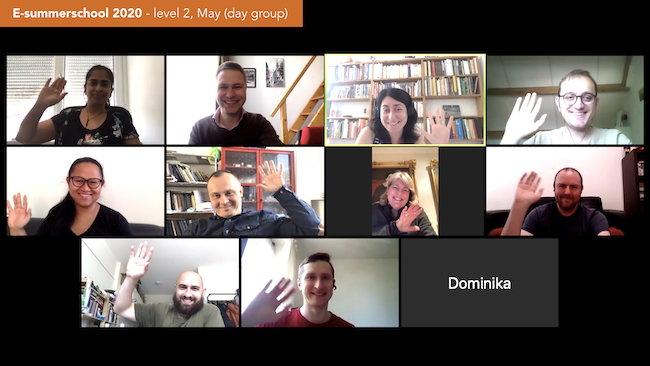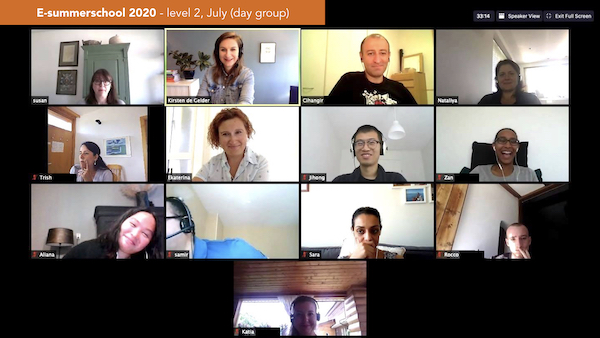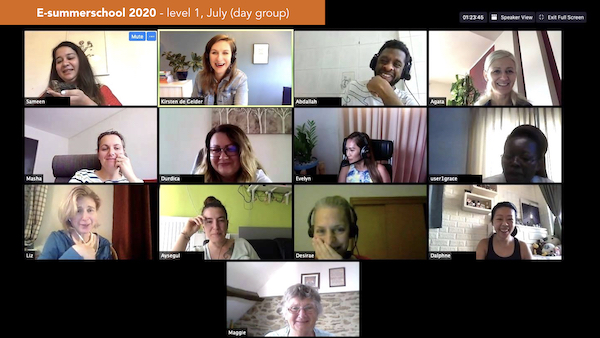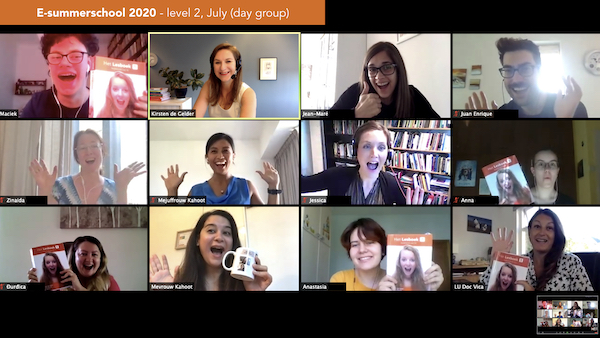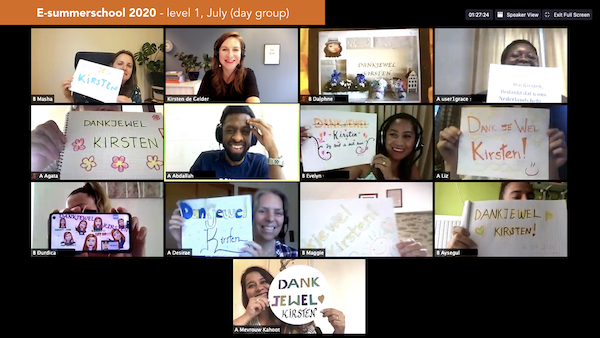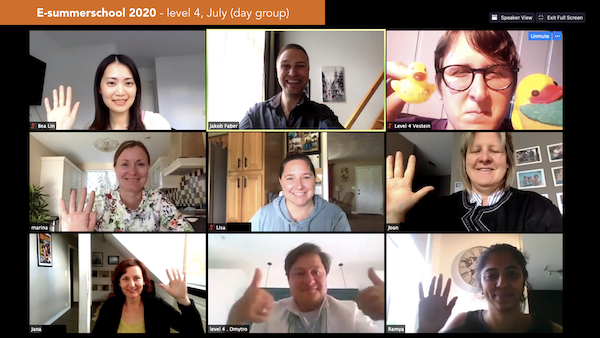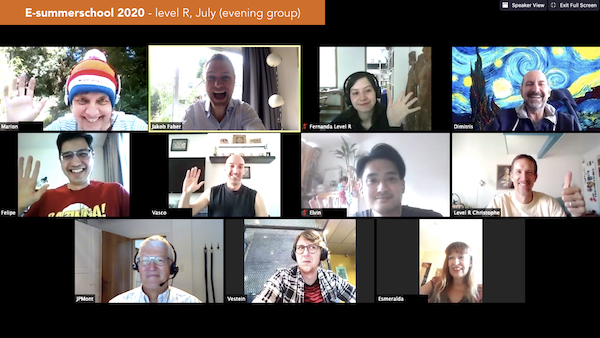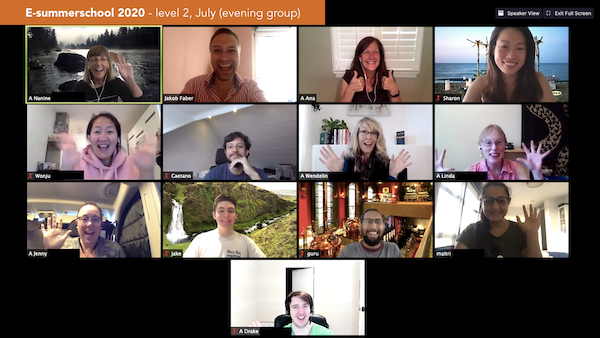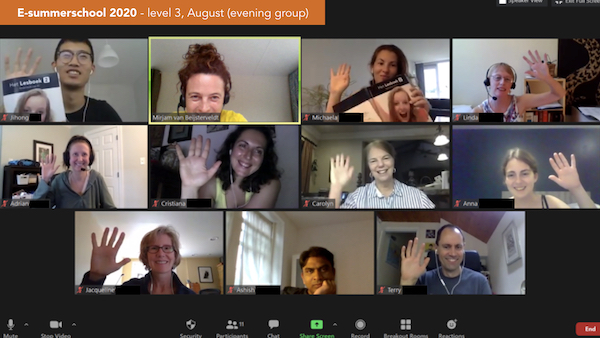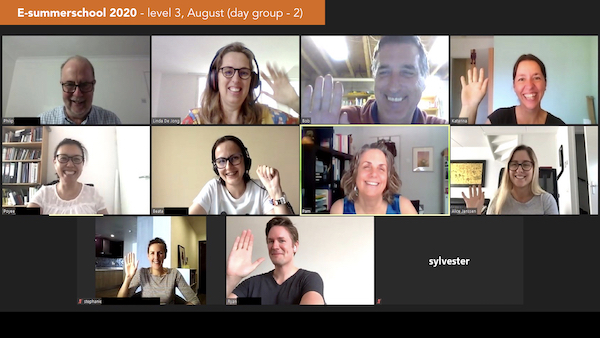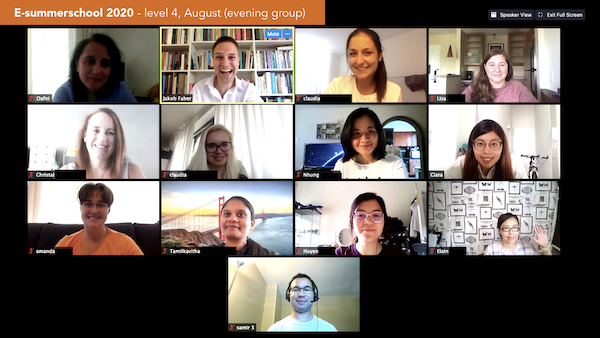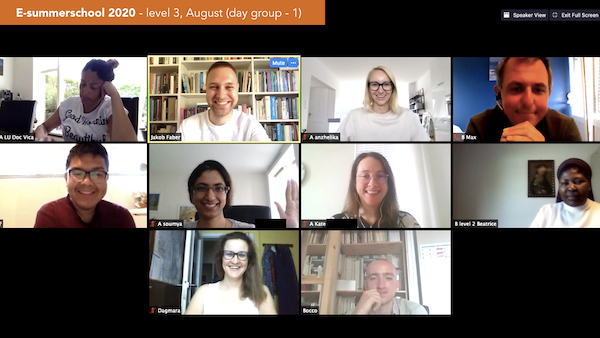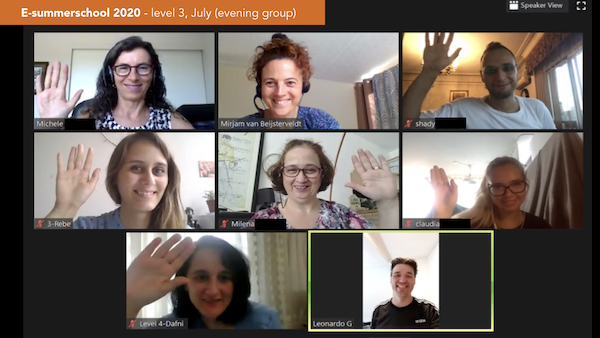 E-learning = our key asset
We didn't switch to e-learning recently. In fact, we took this step in 2014. Three months per year, we are busy running Summer and Winter schools, but the majority of our time we've spent building our program. Why would we not use this extensive experience and all those materials that we created? After all, most of the students who visited us in the past, chose us because of this!
Blended learning
For the Dutch Summer School, we developed a 'blended learning' method, that maximises interaction in the classroom. We don't teach the traditional way: where the teacher spends most of the time on explanations, the students copy that in their notebook and the homework is doing exercises with what you learned… No, that's not how we do it!
The flipped classroom: with our method, you prepare for the next lesson. Prior to the lesson, you watch the videos, do exercises, learn the words. A maximum of the explanations is given in the videos (selfstudy). So that, when you come to the classroom, we can focus on interaction. The added value of a teacher/classroom is that you can ask questions and you can practise. Our blended learning approach combines the asset of the online materials and the interactive approach of our teachers. Read more about the flipped classroom here.
Does our method work in a virtual classroom?
The answer is yes. The program 'Zoom' provides all the options that we need. Showing Powerpoints, virtual whiteboard, but above all: interaction!
Those who have followed our program in the past, know that conversation exercises in couples are an important element of the lesson. This way you practise a lot. And the teacher walks from couple to couple and provides feedback. This all can be done in Zoom.

* 2×2 academic hours 'virtual classroom' per day x 9 days (1 academic hour = 45 minutes)
** shipping costs:
– within the Netherlands – free
– within EU – 13 euros (1 book), 20 euros (2 books)
– outside EU – 18 euros (1 book), 30 euros (2 books)
– if the book doesn't arrive in time: we'll provide access to the book through an online viewer
– book for level R: you order it yourself 'De Finale' (Boom NT2)
*** access to premium online course #dutchgrammar is included:
– from 4 weeks before the start of the course until 4 weeks after the course
General conditions: please read here.
Frequently asked questions
What is the DIFFERENCE between a video course and a virtual classroom course?
A video course (like #dutchgrammar) is an automated course = self-study. It's one-way teaching (transfer of information to the student). A video course has online exercises to practise. You can do it in your own pace (and you might need some self-discipline to really do it).
The advantages of a course in a virtual classroom:
– there is a teacher to ask questions and to motivate you
– there are fellow students to practise speaking Dutch with
– it's not only theory, it's also developing skills (speaking/listening)
– it's very interactive, and has a high social component
– you don't miss out on the videos: it's the same materials
– conversation exercises: you will practise conversation (what you've learned from the videos)
– if you lack self-discipline, then this is a format where you simply HAVE TO show up (and do the homework)
– you're with fellow students who all make learning Dutch a priority
– you meet people to hang out with (even online) and practise Dutch outside the classroom
When should you NOT book this course?
When should you NOT book our course?
We don't have the goal of selling as many courses as possible. We really want to have the right mix of students, people who are motivated and like our concept. Only that way, can we create together the best possible learning environment.
For this reason, we advise when you should NOT book our courses.
Don't book our courses if you haven't mastered English
We use English as the instruction language in the lower levels AND in the #dutchgrammar videos. Studies have proven that provided there is a common language that students and teacher both speak, using an instruction language for explanation is more efficient than full immersion (where the teacher only speaks in Dutch). That doesn't mean that the teacher only speaks in English in the virtual classroom. At the beginner level, the teacher will use English a lot and in level 3 a bit or hardly at all. Only in the higher levels 4 and R will the teacher speak only in Dutch.
In addition, English is the organisational language. Letters, announcements, etc will be made in English, because we always have beginner groups and we want everybody to understand everything.
Don't just send someone on our course…
This is important for employers, parents, spouses and other sponsors…
Most of our students book and pay for this course themselves. The student will have found us on the internet, perhaps is using our online materials and then decides to make a serious investment to take a big step. This is the best possible motivation!
If you are an employer who wants to send an employee, or you are a parent and you want to send your child… then please be sure that your employee or child has 100% motivation to learn the language, and to do it our way.
Our whole method is based on the inner motivation of the student to learn Dutch. This is not 'old-school', where students are punished for not doing the homework, or where they need to pass an exam in the end. Our students should have the real desire to learn this language (not because someone else wants it!).
We consider this one of our strongest points. Both our students and teachers confirm that the overall level of motivation of the students is exceptionally high on our program, which boosts the group result.
It is a course for adults, not for children
We are frequently contacted by parents who want a course for their children. The age requirement is 18+, but – students from 14-18 can apply, taking the following into account: this course has a method and topics that are for adults.
Method: it's not a 'school' system where the teacher will check the homework and contact the parents if there are issues with the student. Our method is based on a (strong) inner motivation to learn the language. If the parents want it more than the student, then it's not going to work out with our method.
Topics: the topics that we cover in our materials are typical adult topics. We learn to use Dutch in situations like a job interview, getting a mortgage, dating, etc.
Don't book this course if you don't like homework
Our students do this course to really learn the language. Our students want results. An important factor to get results is self-study. Count on 3-4 hours per day. That is really essential.
We work with the flipped classroom principle. That means that each student prepares for the next lesson with our online materials. That way, we can focus in class on applying the acquired knowledge. That makes the lessons more efficient and interactive. It makes no sense to come to class without having done the homework.
You don't like Bart de Pau's videos?
The videos are the main part of the homework. If you don't like the style of Bart de Pau's teaching in the #dutchgrammar and 'Heb je zin?' videos, then this course is probably not for you.
Don't book this course if you don't have stable internet and/or basic computer skills.
Please, make sure you have a stable internet connection that is fast enough to stream videos. That is important for both the virtual classroom lessons and the online videos. Additionally, don't book this course if you don't have basic computer skills: you should be able to install Zoom, open a document, receive e-mail etc.
Working at the same time?
We have 2 levels of intensity:
– twice per week, or
– an intensive 2-week course
Don't book the intensive 2-week course if you plan to work full time at the same time. It's simply too intensive. Count on 3-4 hours of homework in addition to the hours in class. In the remaining hours… some rest is also important.
The majority of our students are higher educated
We don't have a strict requirement that everybody should have higher education. But people who pay for the course themselves and who prefer a method that has English as the instruction language are generally higher educated people. Our students are doctors, programmers, managers, entrepreneurs, etc. Usually a mix of expats, international students, and people who live abroad with an interest in learning languages. Our courses have a challenging pace.
That doesn't mean that you can't participate if you didn't finish university… But if you think you are slow in learning languages… count on spending more time on your homework and good preparation prior to the course (with the help of our e-learning package). The intensity of the twice weekly class might be more suitable for you (you will have more time available to do the homework).
If you can't find a reason above NOT to book our course? Well, then probably this course is made for you!
WHICH LEVEL should you book?
DETERMINE YOUR LEVEL NOW:
If you don't know your level, please do the level determination test first. It will give good advice on which level you should enrol if you are going to do the course now.
Give us a call on +31648074618 after you have done the level test on the website, to help you determine the right level.
SWITCHING LEVELS DURING THE COURSE
It is important to determine the level beforehand. Switching levels is possible until 3 weeks prior to the course (if there are available places on the other level).
What is the DEADLINE for booking?
There is no specific deadline for application. As long as we have availability, you can book the course.
In general, most groups reach full booking 3-4 weeks prior to the start of the course, so we recommend not waiting to book till the last moment.
HOW and WHEN to pay?
You pay when you make your reservation. Your spot is secured after payment has been received. You can pay online using iDeal or by credit card.
You can't pay with a credit card/iDeal?
Please contact study@bartdepau.com and we'll provide you with an alternative payment option.
Do you get a CERTIFICATE?
Yes, we issue a certificate, when 80% of the lessons are attended. As it's an online course, the certificate is a pdf-file.
What is the value of the certificate?
It will prove your participation. You can show your employer, put it on the wall or on your resume. You can use it as an indication when taking your next level language course.
What it is not:
Our certificate will not exempt you from any exam of the Dutch government, such as the 'inburgeringsexamen' (civic integration exam) or the 'basis examen inburgering buitenland' (Basic Civic Integration Examination Abroad). In the Netherlands, only the government can issue certificates that have legal value, and language schools can only help you to prepare for that.
What if you can't get the BOOK (in time)?
Are you worried that you can't do this course, because the book won't reach you (in time)?
We send our books all over the world. It could take a while to get to some parts of the world and you might be worried that you won't get the book before the start of the course.
We have an e-version of the book!
The e-version of the book is available for:
– anyone who ordered the book, but hasn't received it in time (you will get temporary access)
– anyone who indicates a preference for the online version of the book instead of the paper version (and you'll save shipping costs).
When will you have access to #DUTCHGRAMMAR?
Access to #dutchgrammar is included from 4 weeks prior to the start of the course until 4 weeks after the end date of the course.
Please note:
– if you apply less than 4 weeks prior to the course there is no compensation of being able to use it longer after the course; see it as an extra motivation to book the course early (and get maximum benefit from #dutchgrammar)
– there is no discount, if you have already bought a 1-year licence to use #dutchgrammar; these are different subscriptions, the regular #dutchgrammar licence is for a year, while the access that is included is only valid for the course
– access to the other online materials (Het Lesboek) is forever, only the #dutchgrammar access expires 4 weeks after the course (and you can purchase a year's licence if you want to continue using it).
Are there extra DISCOUNTS available?
The course is currently offered at a discount rate. We have one rate. The rate is the same for everybody. The price per level is the same if you book more levels. That way we keep our accounting simple and we keep the overall price attractive.
You need to pass the 'INBURGERINGSEXAMEN' (civic integration exam). Can you participate?
Yes, you can. A Dutch language course like ours, is a good way to improve the level of your Dutch and to prepare for such an exam. Our courses can bring you up to the required level.
An important note:
Our courses are focused on acquiring the Dutch language in general, with the goal of being able to really use it (and not just to pass the exam and then forget about it!). We might cover certain aspects of language learning in more detail than is required for certain exams. Not all our students have come for the purpose of passing an exam. Therefore, our courses are not specifically aimed at exam training and do not cover the non-language elements of the civic integration exam (like ONA, KNS). If you like our method, you can of course learn the language with us, and do some additional exam training elsewhere.
You would like to do level X with timetable Y on date Z … what if we DON'T OFFER this?
You can put your name on the waiting list, and indicate:
– your level
– the dates you are available
– possible timetables
To put your name on the waiting list: click here.
If enough people have a similar interest, we'll open extra groups. You can also put your name on the waiting list if a course that you want to do is full. We'll inform you if places become available – which happens when people switch course levels or dates.
Contact: study@bartdepau.com
Phone: +31648074618
Please use these contacts for questions/issues related to the virtual classroom courses only. Questions related to the video course and other materials on learndutch.org, please send to bart@learndutch.org.