How to make Dutch friends?
Coming to a new country is not easy. Work, finding a house, a new culture, a new language. All things that take time and energy. And don't forget, you want a social life, and in a new country you need to build one up.        
How hard is it to make friends in the Netherlands?
What does it take to integrate into Dutch society?
What does integration into the Netherlands mean?
And how important is it to know the Dutch language?
In this blog I take a look at these questions.
It's not easy to make Dutch friends, but it is possible
Many of the students took the decision to learn Dutch only after many years of living in Holland. They did this after finding out that in order to really build a group of friends, there is only one way: learn Dutch!
This is what comes back from most of the students in the video. The Dutch are open people and easy to approach. They don't mind talking a bit about koetjes and kalfjes. But in a lot of cases, it stops there.
Experiences of making Dutch friends
What some people experienced was a distinction between working life and private life. It might seem that for the Dutch these are two separate worlds. And in a way it is. It's not common to see your colleagues after work.
Also, the part of the Netherlands where you live seems to make a difference to how easy it is to make friends. Some people experienced that in the big cities in the western part of the Netherlands (also called the Randstad) it's easier to make international friends and more difficult to make Dutch friends.
More information about dating you can read in this blog. 
English is NOT our native language
When you arrive in the Netherlands and speak with the Dutch, you might be surprised about the level of English. Most Dutch people understand a lot of English and are able to respond quite easily in English.
But remember, it's not common to speak English on a daily level. Which means that at the beginning of a conversation, Dutch people like to speak English. But because it's not their native language, it's difficult to make jokes or really feel comfortable and relaxed speaking English. In a bar during a night out, Dutch people tend to switch back to Dutch after a while because English takes more effort. And on a night out, it's understandable that you don't want to focus all the time on your language.
Comments
It's different for everyone. In the comments there are 3 examples of people's experiences with friendship in the Netherlands.
1. As an international student living in the Netherlands at the moment, everything folks say in this video is absolute fact LOL. You can be a friend of Dutch people by speaking in English but in my experience, that is all. It was well hard work to be a best friend or something. I can totally understand they speak in Dutch even if they are with me as their native language is Dutch. Thus, in order to live in the Netherlands, what I have felt so far is just learning Dutch first, as soon as possible.
2. Do not really agree with this. I am fully Dutch, I live in what would be considered a rural part of the Netherlands. Far, far from like Amsterdam (luckily). And being able to speak Dutch is really not what is needed to make friends, sure the elderly generation has difficulties with English but other than that. I meet a lot of English speaking people and it is always amazing and as easy as in Dutch.
3. Most people here have friendships since their childhood. Their circle of friends are very limited. For me it is very difficult to get in.
Tips for making Dutch friends
In this video, the students who experienced the difficulties of making Dutch friends talk about solutions. They give tips on how to make Dutch friends, and step out of what is called 'the expat bubble'.
'It takes time to get out of the bubble.'
What's important here is that you should make the effort to take the second step. If you take the initiative, you will see a lot of Dutch people are open. But be aware that you should not wait for them to invite you. Because then the chances are high that you could wait a long time.
Another great way of stepping out of the bubble is getting a Dutch partner. But you're not always in a position to make that decision…
Joining a Dutch sport club to socialize and learn Dutch
Sure, sport is good for year health. At least, that is what they say. But what I want to emphasize is that sport in general is one of the easiest ways to connect with Dutch people.
The Dutch love doing sports together.
The Netherlands has about 25 thousand sports clubs. More than 5 million Dutch people are members of one or more of these associations. And these associations play a big part in Dutch social life. In the Netherlands you join a club, not only to play the sport, but also to be with friends. And it's not just soccer. There are a lot of different clubs, from clubs for yoga, running, cycling and fitness to even fishing or darts clubs.
Joining a club is a great way to meet people and of course, to practise your Dutch skills. Because one of the best ways to learn Dutch is talking as much as possible with real Dutch people!
Not only can you meet people by joining a club. Just watching sport can help with socializing with the Dutch.
How to start conversations?
So imagine, you're at a circle party (link) with your colleague, and you sit next to his uncle or cousin. Where to start?
A favourite topic with a lot of Dutch people is the weather. Always a good one!
So you can say:                                                             
Wat een weer he? The weather is bad, right?

Lekker weertje he? The weather is nice, isn't it?
Sports, in particular, football, is often a good guess for making small talk.
Heb je voetbal gekeken dit weekend? Did you watch football this weekend?
Otherwise tv-shows on national television are often a go-to topic to talk about at the coffee machine.
Heb je de finale van Heel Holland Bakt gezien? Did you watch the final of Heel Holland Bakt?
Here you can find popular tv shows that are good to watch! 
Vrijmibo         
One of the best opportunities to speak Dutch is during the vrijmibo.
The vrijmibo stands for vrijdag middag borrel (Friday afternoon drinks). Borrel means having drinks, in general after 4pm and before dinner. Drinking after dinner is just drinking or going out.
Some companies take this really seriously. And you will see that the Dutch are easy to approach!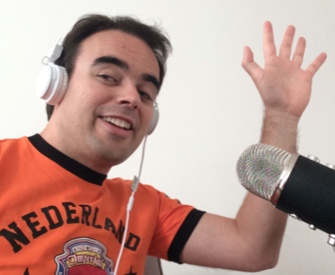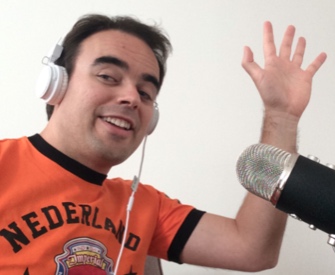 Bart de Pau
online Dutch teacher & founder of the Dutch Summer School & Dutch Winter School