10 places to visit in the Netherlands – if you have only 1 week!
During the summer schools my teachers and I often get asked the question:
'What places in the Netherlands should I visit?'
We want to give our students the best advice because sometimes they are only here for a short period of time.
My team and I all came up with different places and things to do. So I decided to collect all our ideas and I also considered the experiences I'd heard from students.
As a result, here are my 10 places to visit in the Netherlands if you have only 1 week.
Amsterdam
Let's start with the most obvious one, Amsterdam. This famous city is very well known to people all over the world, so much so that people sometimes think the Netherlands is actually called Amsterdam.
When you arrive in Amsterdam it's usual to start your exploration in the old city centre, with De Dam, de grachten and De Wallen. But it's a good idea to also explore a bit further outside the inner city. Check out the small areas such as De Pijp or De Jordaan.
You can get there by public transport but I recommend renting a bike or joining a wandeltocht (a guided walking tour).
So now you have seen Amsterdam and its famous small houses by the canals and you want to experience another big city, next stop is Rotterdam.
Rotterdam
Rotterdam is what you could call an atypical Dutch city. Especially when you have the old picturesque image of Amsterdam in your head as a typical Dutch town.
The Rotterdam skyline is filled with skyscrapers and the distinctive Erasmusbrug.
In the last few years the image of Rotterdam has changed dramatically. For a long time this city was known for its port and its hard working mentality. More recently there are a lot of new cultural activities going on in this modern town.
Time to take the train and visit the next city, Utrecht.                         
Utrecht
Utrechters proudly say that Utrecht is the smaller, gezelliger, version of Amsterdam. At first glance you can see what they're talking about. The architecture of the old houses and the canals resemble Amsterdam. But everything is a bit smaller and you will see fewer tourists and less crowded places.
If you arrive by train you will come into the newest part of town – a totally renovated modern mall. Once outside you'll experience elements from every period of the long history of this vibrant town filled with international students: the grachten (canals), De Dom, The Rietveld Schroder House, and of course Nijntje (Miffy).
You're in Utrecht, the centre of the Netherlands, and an easy point from which to travel to other places. Time to escape the city life.
De Hoge Veluwe National Park
When thinking of the Netherlands not many people think about its natural history. Too bad! The Netherlands offers great places to visit.
So to escape the hectic urban life of Amsterdam, Rotterdam or Utrecht you could go the Hoge Veluwe. This natural park, which is easy to reach by train, offers great forests and interesting wildlife.
Not only can you fall in love with this natural unspoilt area, there's also an important museum, the Kröller-Müller Museum. This beautifully located museum has numerous important works by artists such as Vincent van Gogh, Pablo Picasso, Auguste Rodin and Piet Mondriaan.
De Loonse en Drunense Duinen
Further south you will find another great national park: the Loonse en Drunense Duinen.  Surprisingly, this park is strikingly different from anywhere else in the Netherlands. In this forest rich area suddenly the dunes rise up.
And in the Netherlands, where peace and quiet are sometimes difficult to find, here you can feel it.
While you're heading down south, go further and take the train to Maastricht.
Maastricht
In this town, which is one of the oldest in the Netherlands, you can surround yourself with historic remnants such as the city walls, monumental merchant houses, old churches and big squares like Het Vrijthof.
And while you're there, get your hands on a real Maastrichtse Vlaai.
And if it happens that you can visit Maastricht during carnival, don't hesitate to go! Unless the sound of loud traditional music, lots of beer, customs and parades don't sound fun to you.
Keukenhof
What is the symbol you think of when you think about the Netherlands? Of course, the Dutch tulip. To see this famous image you can visit De Keukenhof in Lisse. De Keukenhof which is also known as the 'Garden of Europe', is one of the world's largest flower gardens.
Plan your visit to the Keukenhof carefully because it's only open from March to May. And the best time to view the tulips is around April.
Moving further north you can take the ferry from Den Helder to Texel.
Waddenzee
If you are learning Dutch, and you want to know the names of the small islands next to the coast in the North of the Netherlands, Dutch people say TVTAS. These are the first letters of the names of the five islands: Texel, Vlieland, Terschelling, Ameland and Schiermonnikoog (not the easiest Dutch places to pronounce). 
If you visit one of these islands, you'll be surprised by the ever changing Dutch skies, the ebb and flood that make hiking a great pleasure and the pleasant ambiance in the small towns of the islands. Some of these islands, like Vlieland and Schiermonnikoog, are entirely free of cars.
Giethoorn
If you want to catch a glimpse of Dutch life in the past: Giethoorn is the place to be. This small town is sometimes called 'Little Venice'. If you visit it, you will see why. Almost all the transport is on water. In fact, you can only enter it by boat. With its 180 bridges, this charming old town has been a great favourite with tourists in recent years.
 Last stop before you leave, Volendam. Volendam? Yes, Volendam!
Volendam
You will find Volendam close to Amsterdam and the Keukenhof. For Dutch people it's known for its Dutch music, football club and its celebrities, whereas visitors want to see the old fishing boats and the traditional clothes.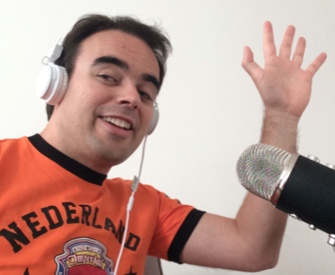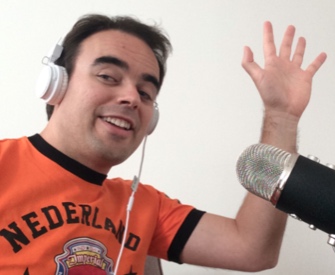 Bart de Pau
online Dutch teacher & founder of the Dutch Summer School & Dutch Winter School