Typical Dutch culture – Sinterklaas
Today I want to talk about a typical Dutch thing, which probably doesn't make any sense if you see it for the first time.
Just a bunch of twigs.
Most people who aren't from the Netherlands won't see what the interesting part of this is. And when they hear that the Dutch are afraid of it, the surprise grows.
In this video we show them a roe.
What is a roe?                            
The roe (the original name is the 'tuchtroede' which means roe for punishment) is part of the Sinterklaas celebration.
What is the function of the roe? Children who behaved well got presents; naughty children got 'de roe'. Mostly used as a threat … either to get beaten, but, later, as a threat to get it in your shoe as a gift (instead of presents), similar to Santa Claus giving coal.
This sounds harsh, right? But is it really common?
Do children still get the roe?
Children don't get this punishment like they used to. It used to be something really scary. But, like other things, the celebration of Sinterklaas evolves with time.
Nowadays, it's not common anymore for parents to use this threat. Nevertheless, you might still sometimes see Zwarte Piet carrying one. Also it's in books, songs and movies about Sinterklaas. As a comment under the video says:
"I do think it's important to note that children used to be scared of the Roe. Not anymore. No Pete working for Sinterklaas (Black or otherwise) has been seen with a Roe in a few decades. Not as long as I can remember, at least, which would be since the start of the 1990s."
In other countries
What I learned from the video is that you see that the roe, or something that looks similar, is also used in other countries.
"In Switzerland we have the "Samichlaus" or in Romansh "Sontga Clau". He came to our house and told us what we haven't done that well in the past year and what we need to change and had to promise him to improve. Our parents got such a "Rute"  they never used it but it was good to scare us."
In Sinterklaas songs
If you live in the Netherlands, learning about Sinterklaas is essential to knowing about typical Dutch culture. An important part of the tradition is the songs.
Sinterklaas kapoentje
Sinterklaas kapoentje
gooi wat in mijn schoentje,
gooi wat in mijn laarsje
Dank u, Sinterklaasje.  
Zie ginds komt de stoomboot
Zie ginds komt de stoomboot
uit Spanje weer aan
Hij brengt ons Sint Nicolaas
ik zie hem al staan
Hoe huppelt zijn paardje
het dek op en neer
hoe waaien de wimpels
al heen en al weer
Zijn knecht staat te lachen
en roept ons reeds toe
Wie zoet is krijgt lekkers
wie stout is de roe!
Oh, lieve Sint Nicolaas
kom ook eens bij mij
en rijd toch niet stilletjes
ons huisje voorbij!
And when Sinterklaas leaves the room you sing:
Dag Sinterklaas
Dag Sinterklaasje dag dag
Dag dag Zwarte Piet
Dag Sinterklaasje dag dag
Luister naar ons afscheidslied 
3 Typical Dutch things about Sinterklaas
The roe is not the only thing that is used to scare the children. If you didn't behave well that year Sinterklaas might just take you to Spain, in a bag!
Saying he's from Spain
For some this does not sound like the worst punishment, especially since winter in Spain sounds a bit better than winter in the Netherlands!
And why Spain? Because the Dutch like to think he's from there.
We like to tell the children that each year he visits the Netherlands from his home country, Spain.
Sinterklaas knows everything about you from his book
Sinterklaas always carries a book with him: 'Het Boek van Sinterklaas'. In there is all the information about all children. So he knows if you behaved well and if you deserve (the massive amounts of) gifts.
Schoen zetten ('putting your shoe')
Sinterklaas arrives somewhere around the middle of November. From then to the 5th December children are allowed to put one of their shoes close to a chimney, or a heater for that matter.
The children also put a drawing or a carrot in it, and in the morning they will find something in their shoe. In general its some delicious Sinterklaas candy like pepernoten, a chocolade letter or marsepein.
5 Things Dutch like to do during Sinterklaas
The Dutch have their traditions. And especially Sinterklaas is the time of year when the Dutch like to come together with family or friends to do specific Dutch things. Here are some examples:
Watch movies about Sinterklaas
Want to know more about the tradition of Sinterklaas? There are tons of movies about it. Mostly for children of course. A couple of years ago a horror movie about Sinterklaas was made: SINT.
Gourmetten at Sinterklaas 
Besides all the candy, Dutch love to gourmetten at Sinterklaas. Here you can read all about this highlight in Dutch cuisine.
Discuss Zwarte Piet
Well, most people are fed up with the discussion. But still each year it's back.
Zwarte Piet has also evolved in recent years. And that's because there's a lot of discussion about it. In this blog you can read all about it.
Watch Sinterklaas journaal
Leading up to the big entrance (called the intocht) there's a special news show called Het Sinterklaas journaal.
This is actually watched by a lot of people, and not only children.
Do a 'surprise-avond'
Children believe Sinterklaas really exists until they are about 6/7/8. It will differ. So what do you do when you are older? When you are a child or a teenager you still get gifts from your parents.
Later you might have to make something for each other, this is also called a 'surprise' (with the French pronunciation). And when you're not with your family, people organise things together. For example making 'surprises' with a poem.
Did you know? (And yes, Dutch people do know this)
Santa Claus is just an American rip-off

There is actually a real Sinterklaas. His name was Sint Nicolaas and he died on 6th December in the year 340. So we celebrate the day of his death.

Sint Nicolaas was a bishop in Myra, a place now in Turkey.
So why do we say he's from Spain? First, although he was a bishop in Myra, in 1087 his bones were moved to Bari in Italy. For some reason Italy changed to Spain in the story.
Sinterklaas

has a horse, a schimmel, and his name is Amerigo

Sinterklaas

comes on a boat. The name of the boat? Pakjesboot 12.

He has to answer some question over and over. A famous question that children ask is the question about the the age of Sinterklaas. His response is always 'ageless', or 'so old that I don't remember'.

He has a staff with him all the time. And this staff is a symbol of the power of the church.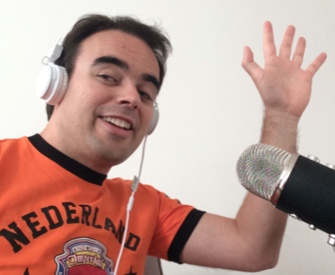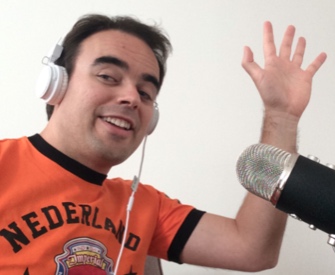 Bart de Pau
online Dutch teacher & founder of the Dutch Summer School & Dutch Winter School