Tips for improving your writing in Dutch
If you are learning a language, in this case, Dutch, there are a lot of elements of the language you have to get to grips with.
For example, there is grammar, vocabulary and pronunciation.
But there are also different ways in which a language is used and with that there are different skills, such as: listening, speaking and writing.
In this blog I want to focus on the last one, writing skills.
Writing in Dutch         
From my own experience, but aslo what I have heard from Dutch students, there are two sides to this skill.
On one hand, it's easier because you have time to reflect. You can use online sources and dictionaries to check if you wrote something correctly.
On the other hand, it is really difficult – almost impossible – to write a 'perfect' text. It's so easy to make a small mistake with all those exceptions, small words and difficult grammar in the Dutch language.
Also, unlike speaking in which small mistakes are more normal, mistakes in written language are noticed by Dutch people very quickly.
Writing tip: Write as much as possible
A tip that seems logical, but which is one of the most important factors in improving is practise.
And don't be afraid to make mistakes.
How can you write more Dutch?
There are are countless opportunities online to write Dutch. You can look up Dutch accounts on youtube, see if there are facebook pages or other pages. And just start writing comments.
If you have Dutch friends on whatsapp, message them in Dutch.
It doesn't have to be long essays. Every kind of practice, even short sentences or just words, helps.
The good thing about Dutch and modern technology is that you can start immediately. So use the words, phrases or grammar you have learned in your everyday conversations with friends or colleagues. You will see that it becomes more natural the more you use it.
Writing tip: Write down the words (by hand)
On learndutch you can find a lot of Dutch, e.g. 1000 common words and the grammar courses. And everything you see and hear is online.
Do you want to improve your writing skills? Listen to them, look at the words (or maybe don't look at the word)s and write them down by hand.
The good thing is you can then check if you spelled them correctly.
Writing tip: Make it fun!
One of the things that I think is really important with learning Dutch is that it has to be fun. 
This also relates to your writing skills. Do things with writing that you like. So for example, you can listen to your favourite Dutch artist and write down the words.
Another tip a student once gave me was to write a journal. Not only has he enjoyed doing it, he improved his Dutch!
He didn't realize it at first, but after a while he could see the improvement he had made in his writing.
Also short games like hangman or a crossword puzzle are good ways of improving your spelling.
Good luck!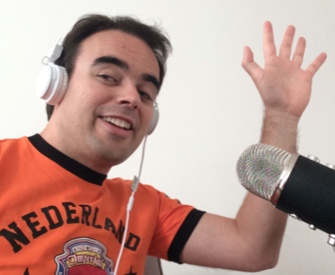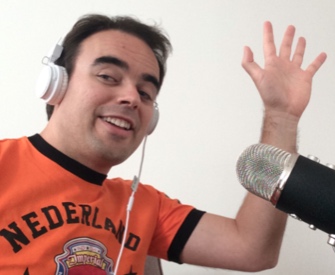 Bart de Pau
online Dutch teacher & founder of the Dutch Summer School & Dutch Winter School