Culture in the Netherlands – How to celebrate King's Day (and more…)
In the Netherlands people are getting excited, because the 27th of April is coming. This means it's almost time for King's Day!
The Dutch know what to expect from it, but for foreigners this day might come as a total surprise!
First, what is this day?
What do you know about King's Day?
On April 27th we celebrate King's Day, which is the birthday of the King Willem-Alexander.
The Netherlands is a monarchy with a royal family, King Willem-Alexander and Queen Maxima and their three daughters: Amalia, Alexia and Ariane.
This means in the future we will have a Queen's Day (again).
Have you ever celebrated King's Day?
The Dutch celebrate King's Day with parties all over the country. This means that in the big cities there are big events. But also, in the smallest villages there are events to do with this day.
Dutch culture: Flea market!                  
One thing that is most common in every town, is a flea market. And people also like to sell their old things in the streets. Most of the time these are just regular items from their homes, and not in the best condition. Also, you often see a young person playing a musical instrument.
Party and drink on King's Day
Another thing that every Dutch person likes to do on this day is to party and drink! In a lot of city centres, the streets are closed off and there is music playing everywhere.
One thing is certain, you need to wear something orange!
Why orange?
Where does the orange come from?
In short it's really simple, it comes from Willem van Oranje (William of Orange 1533-1584), he's also called the 'Father of the Netherlands'. In the sixteenth century he led the Dutch war of independence against Spain, and thereby laid the foundation for what later became the Netherlands.
But where does 'van Oranje' come from? He inherited the 'Oranje', a region in what now is France, from his nephew René van Chalon. So basically we owe our orange colour to a French region.
Queen Maxima, an example for learning Dutch
As you probably know, Queen Maxima is not Dutch. She's originally from Argentina. And she is a good example for students who are learning Dutch.
She has learned Dutch almost to perfection!
How did she do this? I don't know exactly. It was around 2000 and my website wasn't online then. But what I do know is that she took several different language courses in the Netherlands and Belgium.
Not only that, but she has said that in order to pick up her husband's language as quickly as possible, she watched a lot of Dutch television programs.
Máxima also said that she learned a lot from a television show called Lingo. This is a game show that still airs! And she also learned from other television shows that are still airing, Klokhuis and the Jeugdjournaal. In this blog you can read why you should watch television, and get some tips for shows.
What did foreigners think of it?    
All of the students in the video are big fans of King's Day. It's a party for old and young alike. Everyone joins the party because it's about the Netherlands and their moment to be proud of being Dutch.
Or as some others say, it is just an excuse to have party. Because quite a few foreigners feel that it is not really about the King. He is just a regular guy, and is accepted but not idolised.
What is the Dutch national anthem like?
The Dutch are proud of their national anthem. They are proud to say that it's the oldest anthem in the world.
But the Dutch don't really sing it that much. Almost only at sport events. And because of that, most Dutch people don't know the lyrics after the first two lines.
The Dutch national anthem is called 'Het Wilhelmus' and is named after 'the founding Father' Willem van Oranje.
Are the Dutch proud of the King
Most of the Dutch are in favour of the monarchy.
In recent years, support for the monarchy among young people has declined, according to surveys conducted by the research bureau Ipsos. Young people find the idea of a monarchy old-fashioned. They criticize the undemocratic succession.
Fun facts about the Dutch royal family
I think, in general, most people are fine with the monarchy.
There is also not much fuss or many scandals if you compare it with, for example, the UK.
King Willem Alexander's wife, Maxima is a good influence on their popularity ratings. She is the most popular member of the royal family.
Some fun facts:
The day the King and Queen (then Prince and Princess) got married is very easy to remember. They married

on 02-02-2002.

Willem Alexander has been the King since 2013. He succeeded his mother Queen Beatrix who was queen from 1980.

He is the first man on the Dutch throne in 123 years! Before him, we have always had queens.

Willem Alexander studied in Leiden. While he was studying he was known for his partying and drinking. He even got a nickname: Prince Pils (Prince Beer).

Another image that has stuck is a typical Dutch toilet (link). During Queen's Day in 2012 he joined a good old fashioned game of toilet throwing. The pictures from that event became really famous in the Netherlands.

What should you say if you have the chance to meet the king and queen? To the King you say: 'uw Majesteit'. In written language this is: Zijne Majesteit de Koning. Queen Máxima is also addressed with Majesty and written as Hare Majesteit Koningin Máxima.

Willem Alexander is fond of flying. He is a qualified pilot. He might even be the pilot no your next flight. He has worked (anonymously) as a pilot on scheduled KLM flights for years. He does this in order to meet his 150 compulsory flying hours which you need to keep your pilot's licence.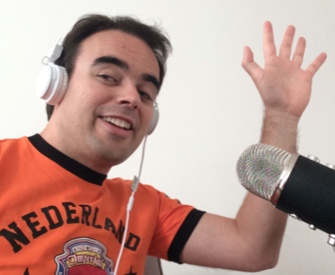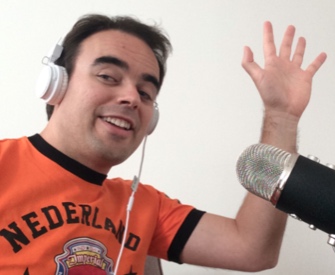 Bart de Pau
online Dutch teacher & founder of the Dutch Summer School & Dutch Winter School