How to learn Dutch when you're not in the Netherlands
When you are learning Dutch, there is one big challenge you may face. For a lot of you, it's difficult to learn Dutch because there are no Dutch speaking people around you. This is quite possible since there are only about 26 million people speaking Dutch worldwide.
But this doesn't mean it's the end of the road for you. Let me tell you, there are many people who started studying Dutch by themselves elsewhere in the world. I have seen them at the summer school and I was surprised by the progress they had made on their own, starting from zero!
I think I can help you with this.
In this blog I will give you my most important tips for learning Dutch when you are not in the Netherlands (or Belgium, Suriname or one of the other countries where they speak Dutch, for that matter).
Let's start with one of the most important aspects of learning Dutch: speaking it.
How to learn to speak Dutch when you're not in the Netherlands     
There are different ways to practise speaking, but think it's really important to start with relevant words. That's why I created the 1000 most common words course.
Learn the 1000 most common words
One of the best ways to start your journey into this new language is to learn the 1000 most common words. In this video I will explain everything about these words. I also developed a course with which you can learn and practise this vocabulary. For example, you can do exercises to test your knowledge of these words.
Now you've got words. But you need something else… Grammar!
Learn the basics of Dutch grammar
Learning a language is more than just learning words. If you want to say something, you need to make phrases with those words. If you just put the words one after another, it's not going to result in something the Dutch will understand. In the online course #dutchgrammar-1 you get videos, exercises and tests to get you to A1-level.
So you've got the words and the basic grammar to speak. What about improving your listening skills?
How to learn to listen to Dutch when you are not in the Netherlands?
On learndutch.org you can find videos for learning Dutch, even if you don't know a single word or sound. I selected three videos which will help you with your first steps in learning Dutch. 
Learn the alphabet
Important at this stage is the understanding of the Dutch alphabet and the sounds. In this video on my website you can learn all about the Dutch alphabet.
Learn the letter combinations
In this next video you can learn about the letter combinations or dipthongs in Dutch. Maybe you know this already, but there are some really difficult combinations in Dutch.
Learn about the pronunciation
And to make it even more difficult, sometimes Dutch people pronounce words with letters that aren't present. You can learn about the adding of a non-written vowel in pronunciation in this video
A general tip.
Read or listen to as much Dutch as possible, and try not to let it get too serious. It can be fun as well.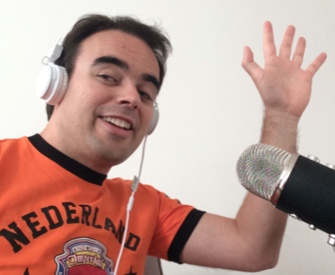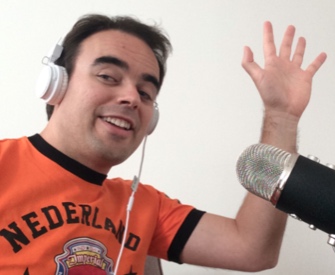 Bart de Pau
online Dutch teacher & founder of the Dutch Summer School & Dutch Winter School